Out for a walk today from Princetown. Just under 6 miles of easy and dry walking. It was good to be back on the moor after what seems a long time.
A straightforward out and back route from the centre of Princetown across the moor to Nun's Cross Farm. A good footpath for most of the way which, or so I learnt, was the old road to Ivybridge, that lies some 10 miles to the south. Not the sort of route to take at night in bad weather.
No birds, no flowers but good weather and lots of big skies.
No, not one of our group but a soldier out on a timed 25 mile 'yomp, back to the barracks in Stonehouse. We were passed by quite a few and, it has to be said, some looked as if they wouldn't make it.
More sky. But look, no rain.
Nun's Cross Farm, not worked since the 1950s and now used as an outdoor centre for schools and youth groups. Apparently, the rangers were installing a composting toilet for the residents. It seemed a lot of effort when an earth closet could do the same job.
Looking south westwards to Plymouth Sound in the distance, about 10 miles away. The visibility was excellent and we could make out the Eddystone Lighthouse.
With a little cropping and enlargement, we get a better view of the two structures on the rocks, more of which below with a close-up downloaded from the internet.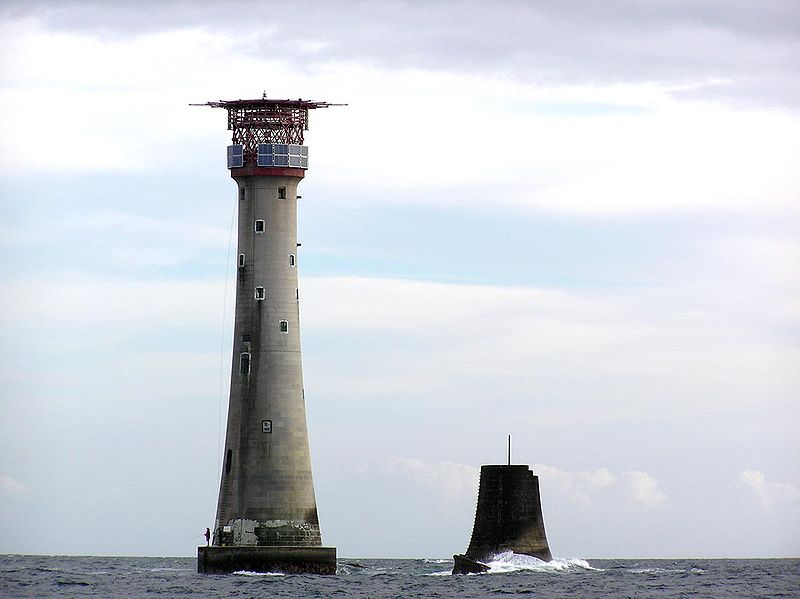 The Eddystone Lighthouse is on the Eddystone Rocks, 13 miles south west of Plymouth.
The current structure is the fourth lighthouse to be built on the site. The first and second were destroyed by gales. The third, also known as

Smeaton's Tower (completed in 1759),

is the stump on the right. Its upper portions have been re-erected on Plymouth Hoe.
The fourth and largest of the Eddystone lighthouses was completed in May 1882 and is on the left, with its helicopter landing pad giving it a nice flat top. It is, of course, fully automated now and is powered by solar panels.
This shot looks as if it's of the inmates heading back to Dartmoor Prison after an afternoon in the quarry. It's not, of course, it's the group winding its way back to the Fox Tor Café for refreshments.