We've been trying to complete the 312 miles of the Cornwall Coastal Footpath for an embarrassingly long time. Our excuse is that we find it difficult to allocate enough time to walk significant chunks of it, hence one of the reasons for 'getting away' and concentrating on completing discrete sections. Quite often we find ourselves in the position of having to 'fill in' short stretches: today was one such when a short walk enabled us to join two pieces together. Just 3 miles in unexpectedly dry conditions above, but with plenty of mud below. It was basically a circumnavigation of St Anthony's Head.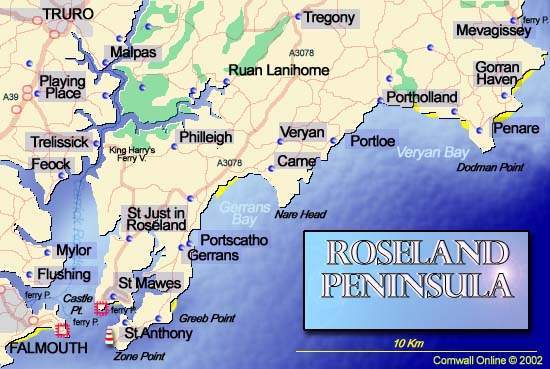 For those wondering where the Roseland Peninsular is, here's a map. Just think due south of Truro and to the right of Falmouth.
Not as clear as for our last coastal jaunt. Looking eastwards across Porthbeor Beach with Nare Head in the distance.
We passed by St Anthony's church again and I took the opportunity to take this photograph looking up into the central spire. The outside is octagonal and you can pick out the eight segments of this around the central section.
Fairly common seabird just out of focus Part 34: Curlew. Downward curved beak so curlew or whimbrel. No whimbrels this far south so it must be a curlew.
Not-so-common seabird just out of focus Part 23: Purple Sandpiper. We've seen lots of them on the Scottish islands but they are not common in Cornwall.
I'm not a great lover of 'arty' shots and this isn't intended to be 'arty'. Simply a collection of bee hives that attracted me. Just think of all the bees contained in them just waiting for the temperatures to rise enough so they could go foraging. Not that foraging at this time of year would be productive.
The lighthouse at St Anthony's Head giving sailors a marker into the Carrick Roads.
Ditto.
St Gerent's church at Gerrans, just up the hill from Portscatho. Norman in origins but extensively restored by the dreaded Victorians. But they did leave the tower alone. It's unusual amongst churches in the county because it is octagonal. So what, you say? Wasn't St Anthony's church tower also octagonal? Yes, but that was a Victorian remodel in wood (to match the tower of Place House?): St Gerent's is in its original stone.
A very pleasant and light interior with two aisles.
Some of the original carved oak pew bench ends have been retained. If only they could talk. I wonder if anyone has written a book from the perspective of a bench end? Imagine what they have lived through: funerals, marriages, baptisms, celebrations of joy and catastrophe ..and so on.
Near the porch was an unusual round-headed Celtic cross. Lost for many years apparently and then recovered from the walls of a farm building.